Washing Machine
Question Topic
Washing Machine Miscellaneous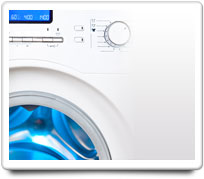 Home-Wizard™ calculates your ideal home care program to avoid problems with your Washing Machine, but sometimes trouble can still occur. Here are answers to questions about washing machine miscellaneous.

QUESTION FROM RG
What is considered to be the useful life of a 12 year old Whirlpool washing machine (model LSR7233EQO)? I have a stripped agitator and somewhat frequent leaks.
---

ANSWER FROM HOME-WIZARD
Dear RG:

Unfortunately, the answer to the question of useful life of a washing machine is that it depends on how you have operated and maintained it over the years.

For example, if you have 5 kids and you run your washing machine constantly, the way it does at my house, then this will affect how many years a washing machine will last. As opposed to an "empty nest" household where the washing machine may only run occasionally.

It also depends on how you load your machine. If you are not careful to evenly place the clothes in and your machine frequently trips off because of imbalanced loads, then this will shorten its expected service life, since it creates more wear and tear on your machine.

And similarly, if you typically run the machine heavily loaded versus lightly loaded, then this will affect its useful life.

One thing that you mentioned that you should be very careful about is the frequent leaks. If you end up flooding your home (especially if your washing machine is on the second floor) because you didn't replace your aging washing machine, you probably will be very sorry you didn't act sooner.

On the other hand, if the repair costs are relatively small and overall your machine is in good shape, and you don't need the increased efficiency and features of a new machine, then it could make sense to continue to fix and use the one that you have.

Hope this is helpful.
Home-Wizard.com

QUESTION FROM Vic
If a multitester switch is set to the 15-volt position and the meter pointer indicates a reading of 82 volts on the 150 VOLTS scale, what is the actual voltage being measured?
---


QUESTION FROM Kurt
Whirlpool Part Number 8+I16563818
Description: Tech Sheet


Manufacturer: Whirlpool
---


QUESTION FROM anonymous
proper installation of drain hose on washing machine
---

ANSWER FROM HOME-WIZARD
Dear anonymous:

The drain hose (hooked pipe) for a washing machine is secured to the rear of the machine by support clips and may be routed to the right or left as needed. The drain hose should be placed into an open standpipe which has a minimum inside diameter 2 inches, or alternatively, it can be positioned over an open sink. The height of standpipe or sink should be between 24 and 40 inches off of the floor (so that it is higher than the height of the tub in your washer, but not so high that you washer has trouble pumping into the standpipe or sink). Care must be taken that the hose (or sink drain) is never obstructed, and that the hose is never twisted or that the end of it is not submerged in water. If the hose is connected to the standpipe with an airtight joint, then it will need a check valve or other mechanism to prevent it from siphoning water back into your washer.

Hope this is helpful.
Home-Wizard.com