Fireplace (gas)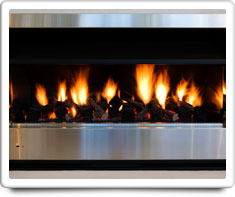 A Gas Fireplace is a fireplace that burns either natural gas or propane to create flames and heat.

There are three main types of gas Fireplaces: 'gas fireplace inserts' that are installed in the opening of an existing wood burning fireplace and are vented through the existing chimney with a special vent pipe that carries the exhaust to the outside; 'direct vent gas fireplaces' which can be vented directly through an exterior wall and do not require a traditional masonry chimney; and 'vent-free gas fireplaces' that are designed to operate without the venting of exhaust fumes to the outside.

A pilot light operates continually to ensure piped in gas burns whenever it is present.
Shown in the 'Routine Care' section are the recommended routine maintenance tasks for your fireplace (gas). The 'Q & A' section shows answers to common questions. And the 'Articles' section provides helpful articles about your fireplace (gas).
Fireplace (gas)




Compliments of
A Full House Inspection Co. LLC
732-758-9887
www.AFullHouseInspection.com